Shelter Helpers
PLEASE NOTE: New volunteer onboarding is currently on hold due to COVID-19. We hope to resume bringing in new volunteers this fall. In the meantime, you are welcome to submit a volunteer application, and we will communicate with you when we are running New Volunteer Orientations again.
---
Our Shelter Helpers are life savers.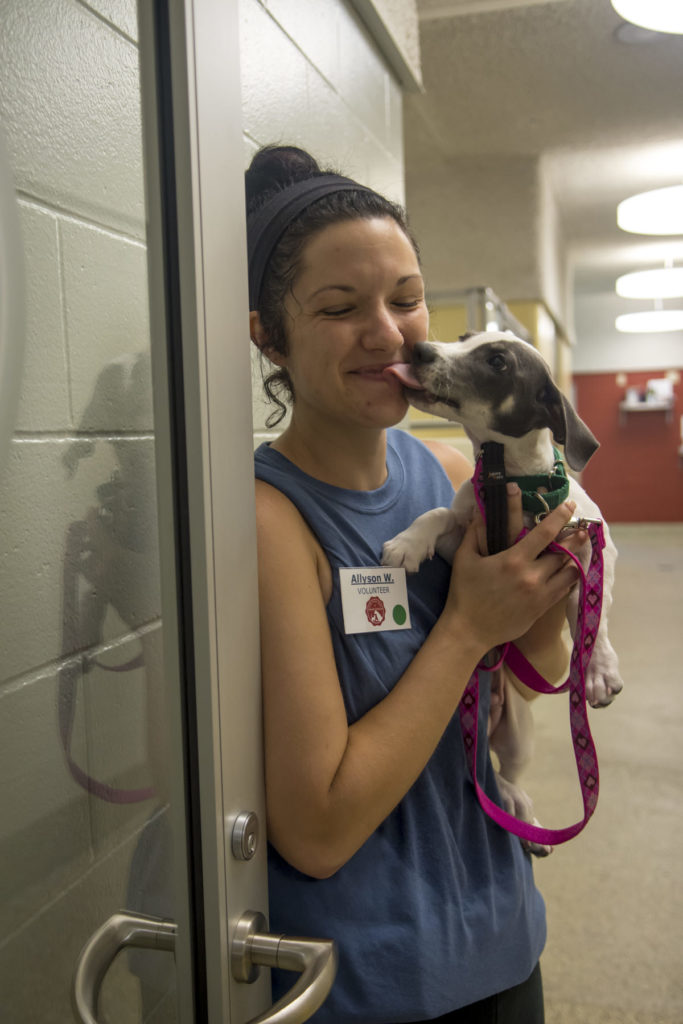 Thank you for your interest in volunteering at the Animal Refuge League of Greater Portland. We are excited to connect with community members who are as dedicated and enthusiastic about animals as we are!
Before submitting your application, please read about our program to make sure that it is a good fit for you.
*Please note: If volunteer applicants need community service (school OR court), please visit the community service page.
---
Volunteer Requirements
ARLGP volunteers are self-motivated, mature, sensitive, and dependable. If you are interested in joining our volunteer team, below is a list of questions that you should ask yourself to make sure that volunteering is a good fit for you:
Are you over the age of 16? 16 is the minimum age to volunteer independently. If you are 13-15, you may be accompanied by an adult who is also a volunteer to perform the same tasks as a team.

We also have Junior Volunteer Days under our Humane Education Department for youth volunteers ages 5-18. Learn more.

Do you have consistent, reliable transportation?
Do you have health insurance? All ARLGP volunteers are required to be covered under their own health insurance policy. There are no exceptions to this.
Do you meet the necessary Essential Capabilities needed to volunteer safely?
Are you able to make at least a 6-month commitment to a regular, weekly volunteer shift?
Do you have reliable access to the internet for obtaining information about volunteer positions and shelter updates?
If you answered "no" to one or more of these questions, the ARLGP Volunteer Program may not be the best fit for you. Please feel free to connect with our volunteer coordinator at scote@arlgp.org or (207) 517-3934 to discuss any questions or concerns.
Frequently Asked Questions
Questions about volunteering? Here are our most frequently asked questions regarding our volunteer program.
Volunteer Job Descriptions
Read about the different types of jobs our volunteers assist with here.
---
Ready to get started? Here's how:
Submit Payment: We ask for a one-time $10 application fee to help cover the administrative costs of running our robust volunteer program.
Complete a New Volunteer Application online and sign up for a New Volunteer Orientation session: Once you've paid, you'll receive an automated email containing a link where you can complete the application. Be sure to check your junk/spam folder!
Attend a New Volunteer Orientation (required): Orientations are held monthly, and last about 45 minutes. Here you will learn about our organization, volunteer program and policies, types of volunteer jobs, and current shelter needs. You will be added to our new volunteer email list, and will receive a monthly email with current volunteer opportunities.
Choose a shift and complete training: Let our Volunteer Coordinator know what shift you are interested in, and we will get you in to train with your department. Training is a critical component of volunteering and typically takes place during your first shift.
APPLY NOW: Please read all of the program information above to ensure that our program matches your expectations and schedule. If so, please complete our volunteer application form. This form will ask you to pay a $10 application fee. Once submitted, you will receive a confirmation email to complete your volunteer application and select your orientation date and time.
---
- back to top -