Country Kitties
Do you have a farm, barn or outdoor structure that may benefit from the pest management of a tiny tiger?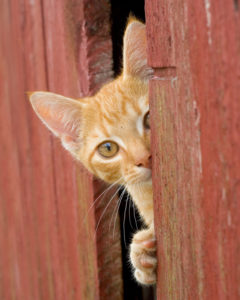 At the ARLGP, we receive surrendered and stray felines that are not suitable for an indoor lifestyle. Our Country Kitties Program places these cats in homes that can provide them with the outdoor lifestyle that they need and desire. Country Kitties are unlike the majority of the cats we place into homes at the ARLGP, these cats are not suitable for indoor life.
Country Kitties are generally independent cats, in need of little inter­action from their human landlords. Country Kitties are spayed/neutered and up to date on their vaccinations.
What are the criteria for adopting a Country Kitty?
An outdoor housing area, such as a barn or stable.
The ability to provide long-term veterinary care, when needed.
The ability to provide food and water in your outdoor housing area.
It is important to note that adopting a Country Kitty is still a responsibility, and the adopter will be providing necessary care to their feline throughout their entire life. In return, you are providing a home to an animal in need.
Do you have a home that may be a good fit for a Country Kitty?
Contact our feline team at (207) 854-9771 or cats@arlgp.org
---
- back to top -