Corporate / Group Volunteering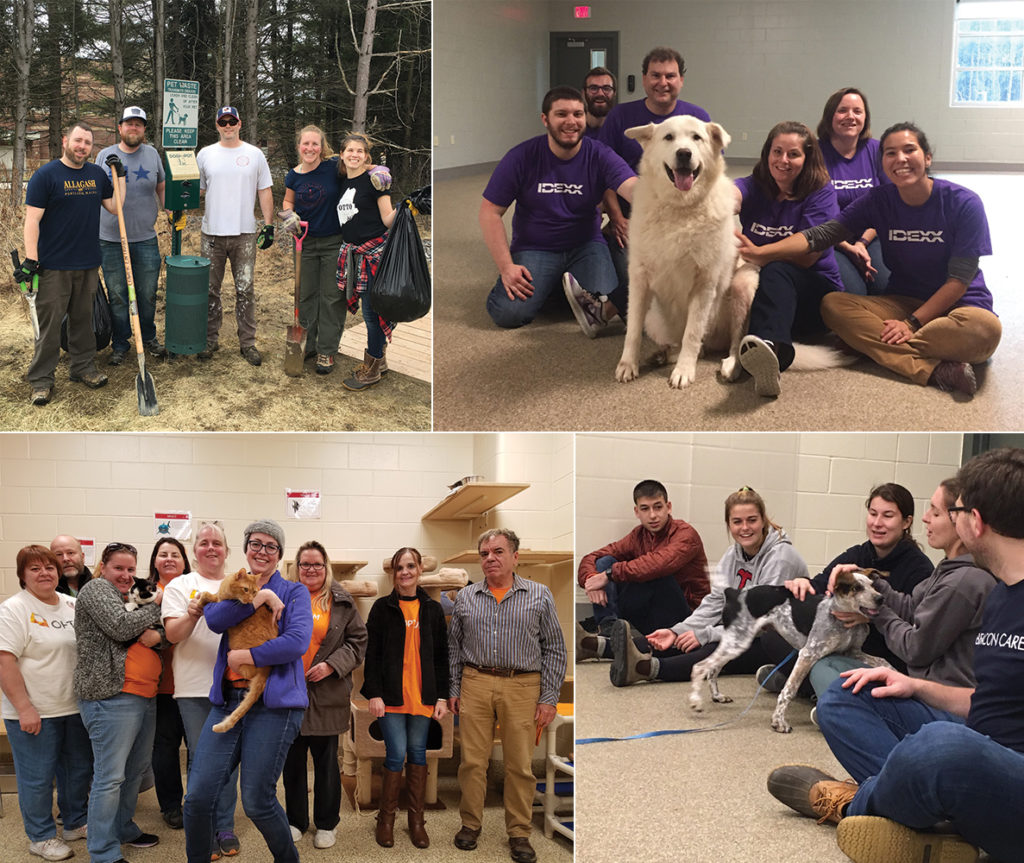 Does your organization want to give back to shelter pets in our community? Want a team-building experience that helps pets in need? The Animal Refuge League of Greater Portland's Corporate Volunteer Days are a great way for your company to give back by engaging in exciting and impactful projects at our facility.
Your company's financial contribution will help cover the resources needed to host groups, as well as help us to continue providing the highest level of services to the animals in our care. As a private, nonprofit organization we depend on the generosity of our community to carry out our mission. The funds generated through these volunteer experiences directly support our life-saving work.
Benefits and what you can expect:
One on-site group volunteer teambuilding opportunity for up to 12 staff.
Introduction to the ARLGP and behind-the-scenes tour of our facility.
A hands-on volunteer project (activities may include creating enrichment toys and treats, deep-cleaning, laundry, property/trail maintenance, donation sorting and organizing).
Time to socialize with the cats, dogs and small animals that will benefit from your group's work.
Thank you letter with a group photo that can be displayed in your company's office.
Social media shout-out with a group photo and company tag thanking the group on our platforms that has more than 44,000 followers.
Before completing and submitting a group volunteer application, please note the following guidelines:
A corporate contribution of $200 is requested to book a Corporate Volunteer Day (waived for school and nonprofit groups).
Group days are held on Wednesdays from 10am-1pm, or 1-4pm.
If your group is larger than 12, or if Wednesdays do not work for you, it may still be possible to accommodate you. Please contact the Volunteer Coordinator to inquire about other options.
All group participants must be at least 16 years of age and must be willing to sign a liability and photography waiver.
Group Volunteer & Application Agreement
Due to the high volume of requests that the ARLGP receives for group volunteer opportunities, a completed application and agreement form (located below) is required for your group to be considered.
An ARLGP staff member will review your application and contact you within two weeks of submission.
Questions before completing our interest form?
For questions regarding ARLGP's group volunteer program, contact our Volunteer Coordinator Shannon Cote, at scote@arlgp.org or (207) 517-3934.
CURRENT AVAILABLE 2021/2022 DATES FOR GROUP VOLUNTEERING:
Wednesday, December 1, 8, 15, 22, 29
Wednesday, January 5, 12, 19, 26
Wednesday, February 2, 9, 16, 23
Wednesday, March 2, 9, 16, 30
APPLICATION & AGREEMENT FORM:
*All volunteers must be at least 13 years old for group volunteering. Children interested in spending time at the ARLGP, but are not of age to volunteer, can always help from home! Check out our Humane Education program offerings for our kid-centric activities and workshops!
---
- back to top -