Adopt a Pet
JUNE 2021 ADOPTION PROCESS UPDATE
Beginning Thursday, June 10th, the ARLGP will be open to in-person visits for adoption. We are committed to our life-saving mission and maintaining the health and wellbeing of both the animals and people in our facility. During the first phase of our facility reopening, our emphasis will be on adoption services and finding homes for pets in need.
We will not be open for general visits from those who are not seriously interested in adopting (community outings, field trips, group visits, etc.) at this time.
Our adoption days/times will be:
Tuesday, 11am-3pm
Thursday, 11am-3pm
Friday, 11am-3pm
Saturday, 11am-3pm
Sunday, 11am-3pm
We will be closed weekly on Monday and Wednesday.
2:30pm will be the latest time that adopters are let into our building.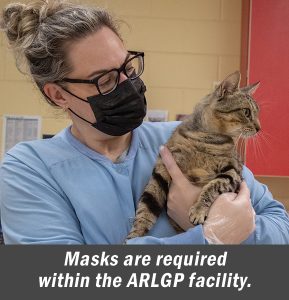 What does this mean? PLEASE READ BEFORE VISITING:
We will return to our in-person first-come/first-served adoption process and remove our current online waitlist system beginning Thursday, June 10th.
Community members interested in adopting a pet are encouraged to look on our website nightly and visit us only if there are animals you are seriously interested in adopting.
Upon arrival to the ARLGP, you will be greeted at our front desk and assigned a place in line based on your first-come/first-served order of arrival. Once there is an adoption team member available to assist you, you will meet the animal you are interested in to begin the adoption process.
We will not be open for general visits from those who are not seriously interested in adopting (community outings, field trips, group visits, etc.) at this time.
Masks are required to be worn by anyone entering our building, regardless of vaccination status.

Our primary priority is the health and safety of our staff and volunteers. Masks are required within the ARLGP until further notice.
Questions about adopting?  Give us a call at (207) 854-9771.
We graciously ask for patience and flexibility as we work through this first phase of opening our doors.
---
FEES & MICROCHIPPING
To review our adoption fees and learn about microchipping, please visit our adoption fees page.
---
Our Littermate Policy Regarding Puppies
Per policy, the ARLGP does not adopt out puppies from the same litter together. We know that a single puppy is a lot of work and a big commitment. It's important that new adopters take the time to ensure their new puppy gets all the attention, training, play and socialization it needs during the formative months of its life. Littermate syndrome is a very real possibility when littermates are not separated. Littermate syndrome occurs when puppies from the same litter stay together in a home and bond strongly to each other. This can prevent a bond with people, can cause dog-to-dog aggression later in life with each other and with other dogs and can cause fear in new situations, fear of strangers and of unfamiliar stimuli and anxiety when separated. This does not happen with every pair of littermates, but there is no way to tell ahead of time whether it will occur or not. The ARLGP recommends adopting a puppy, getting that puppy adapted to their new home and well down the road to house training, basic obedience training and socialization and then consider adopting a second puppy.
---
- back to top -