In-School Programs & Shelter Visits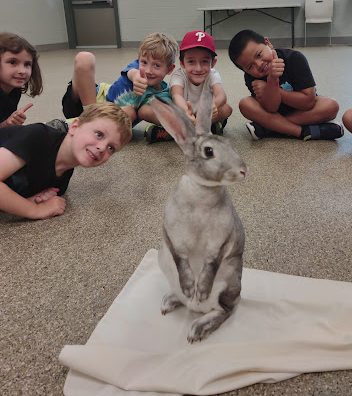 The ARLGP Humane Education team is happy to offer educational programming to youth in our community. Programming can occur in our shelter classroom and/or external visits to local schools and classrooms.
Due to an overwhelming interest in our programs, we want to ensure our partnerships are a positive experience for students, staff, and animals.
If you are an educator looking to partner for programming, please read through the following expectations and guidelines. Don't hesitate to reach out to our Humane Education team with any questions at education@arlgp.org
SAFETY & PROTOCOLS
School groups wishing to visit the ARLGP are expected to treat our animals, staff, volunteers and facility with respect and kindness. This entails following the directions and guidelines established by ARLGP staff to keep both visitors and animals safe at all times. Failure to adhere to safety guidelines, may result in dismissal from the current activity or termination of the partnership.
Teachers and chaperones play an integral role in educational experiences and are expected to address any student issues that arise while visiting the ARLGP or while an ARLGP educator is visiting your school. ARLGP staff members will immediately address behavior that directly has to do with the safety of a visitor or an animal in our care.
ANIMAL MEET & GREETS
Please note that our mission is to provide temporary care and shelter for stray, abandoned, confiscated, and relinquished animals. We do this by creating awareness and support for the humane treatment of all animals. Interactions for students with our shelter animals is based on our shelter population and animal suitability. We cannot guarantee students will meet a specific type or number of animals, as our daily animals change as pets are rehomed.
SCHEDULING & CURRICULUM
School group visits to the shelter and/or outreach visits to your classroom can be scheduled based on our education department staffing availability. Visits are typically 60-90 minutes in length.
Visits to the shelter can be customized depending on the needs and interests of your group. They can include a tour of our facility, time with shelter animals, in-shelter volunteer projects (as available), and various lessons regarding animal welfare topics. Our lessons are created with a foundation of responsible pet care, kindness towards animals, and compassion for our community of pets and people.  Group visits are limited to 20 people total, students and teachers/chaperones.
If interested in scheduling a visit either to the ARLGP or at your school, please email education@arlgp.org and provide us with the following information:
What are the ages, grades, and capabilities of your students?
How many students and chaperones will be included in the activity?
What types of things are you looking to accomplish during the visit?
Please provide a list of days/dates/times that work for your group.
Please note that our shelter is open to the public every day 11am-4pm, except for Wednesdays when we are closed to adopters. Wednesdays are a great opportunity to visit the shelter when it is a bit quieter.
---
- back to top -