Birthday Parties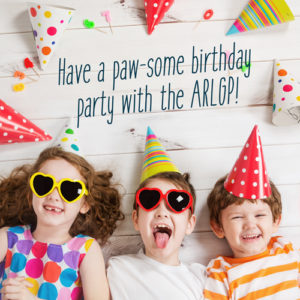 Celebrate your birthday at the Animal Refuge League of Greater Portland!
Does your child love animals? The ARLGP has the purr-fect place for your kiddo's upcoming birthday. Each birthday package includes two hours in our humane education classroom. Our state-certified educator will provide the group with 1.5 hours of programming, including a shelter tour, activities and games, and a meet-and-greet with shelter pets.
Choose from two birthday party packages:
Animal Antics Party – $200
This birthday package includes:
12 child guests
A maximum of 15 child guests can be accommodated at $10 extra per child
1.5 hours of programming with the ARLGP educator and 30 minutes for cake, food and celebration
Programming includes: shelter tour, activities and games, meet-and-greet with adoptable animals
Set-up and clean-up of classroom
Book your Animal Antics birthday party now >
---
Critter Crazy Party – $250
This birthday package includes everything listed above, plus:
Naming of animal available for adoption
Goodie bags for child attendees
ARLGP t-shirt for birthday child
Book your Critter Crazy birthday party now >
---
THINGS TO KNOW:
Food & Gifts
Families are welcome to bring food, beverages and cake for the party to enjoy. Delivery by local restaurants is also an option. A refrigerator is available for use. Don't forget the plates, napkins and silverware!
Party guests can bring gifts, however due to time of programming your birthday child may not have the opportunity to open them during your two-hour block.
Many birthday parties choose to collect items and supplies for the ARLGP and the furry friends in our care. View our wish list of commonly used items >
---
Party Guests
Both of our birthday party packages include 12 child guests. You can invite up to 15 child guests for an additional charge of $10 per child. Unlimited adults are welcome.
---
SCHEDULE YOUR BIRTHDAY PARTY:
We ask that you please schedule birthday parties at least three weeks in advance of your desired party date. Parties are scheduled on Friday evenings from 5-7pm, Saturdays 10am-noon or 2-4pm, or Sundays 10am-noon or 2-4pm. Need a birthday outside these options? Shoot us an email at education@arlgp.org, we can be flexible!
Birthday parties are scheduled upon receipt of payment, on a first-come, first-served basis. You will receive a confirmation email and/or phone call within 48 hours of payment to confirm your child's party date and time.
---
QUESTIONS?
Contact our humane education department at education@arlgp.org or (207) 517-3939.
---
- back to top -