Spay/Neuter & Wellness
ARLGP Spay/Neuter Clinic
The ARLGP Spay/Neuter Program is designed to offer low-cost spay/neuter services to income-qualifying pet parents.
You qualify if you meet one of the following criteria:
You are a full-time college student.
You are currently using one form of public assistance (disability, unemployment, Medicare/Medicaid, MaineCare, Social Security, SSDI).
Your income is at or below the amounts based on the total number of people in your household, as outlined below: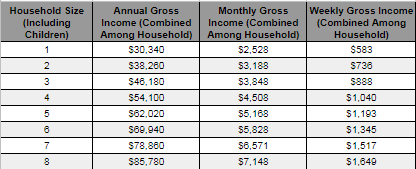 TO SCHEDULE YOUR PET: If you are in need of spay/neuter services for your cat or dog, please fill out this request form and a member of our scheduling team will contact you when an appointment is available.
Don't qualify with the criteria above? Email our team at snclinic@arlgp.org to learn more about our Spay It Forward Program.
Spay/Neuter Clinic Fees:
Cat spay/neuter: $95
Dog spay/neuter (under 50 lbs.): $240
Dog spay/neuter (51-89 lbs.): $270
Dog spay/neuter (90-124 lbs.): $300
Additional add-on vaccines/treatments at time of spay/neuter surgery:
Rabies vaccine: $20
Distemper vaccine: $25
Bordetella vaccine (kennel cough- dog only): $25
Ear cleaning: $5
Ear mite treatment: $15
Dewormer: $15
Nail trim: $5
Microchip: $40
Frontline: $10
Please note: we are unable to spay/neuter Brachycephalic breeds (i.e. Pugs/French Bulldogs/English Bulldogs/Boston Terriers/Pekingese), Adult female Great Danes/Mastiffs/Weimaraners/Shepherds. We are also unable to spay/neuter cats over the age of 9, dogs over the age of 7, cats/dogs under the age of 8 weeks, or any cats/dogs that weighs under 2 pounds.
---
ARLGP WELLNESS CLINICS
ARLGP Vaccine Clinics offer low-cost vaccinations for cats and dogs, to help ensure our community of companion pets is happy and healthy.
UPCOMING CLINIC: Please check back for future vaccine clinics
---
FINANCIAL ASSISTANCE PROGRAMS
If you are in need of financial assistance for urgent or emergency veterinary services, we have compiled a list of external foundations and programs.
---
LOCAL EMERGENCY VET HOSPITALS:
The ARLGP does not have a full-service public veterinary clinic. If your pet has a medical emergency, please contact your veterinarian or visit a local emergency veterinary practice:
Animal Emergency Clinic of Mid-Maine
37 Strawberry Avenue, Lewiston, Maine 04240
(207) 777-1110 | aec-midmaine.com
PetMedic Urgent Care
191 Marginal Way, Portland ME 04101
(207) 813-4777 | petmedicurgentcare.com/locations/portland-me/
Animal Emergency Clinic
739 Warren Avenue, Portland, Maine 04103
(207) 878-3121 | animalemergencyspecialtycare.com
Maine Veterinary Referral Center
1500 Technology Way Enterprise Park, Scarborough, Maine 04074
(207) 885-1290 | mvmc.vet
---
MICROCHIPPING
Microchipping is our #1 way to reunite lost pets with their owners. Microchipping is a quick and easy way to ensure your animal is properly identified in the event that he/she gets lost. The cost is $40 per pet and comes with a one-year registration. Please give us a call at (207) 854-9771 to set up an appointment to microchip your pet.
---
- back to top -