Spay/Neuter & Wellness
ARLGP Spay/Neuter Clinic
The ARLGP Spay/Neuter Program is designed to offer low-cost spay/neuter services to income-qualifying pet parents.
You qualify if you meet one of the following criteria:
You are a full-time college student.
You are currently using one form of public assistance (disability, unemployment, Medicare/Medicaid, MaineCare, Social Security, SSDI).
Your income is at or below the amounts based on the total number of people in your household, as outlined below: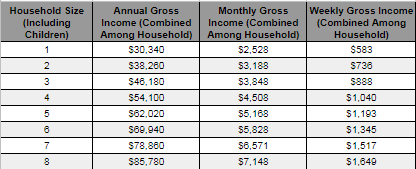 TO SCHEDULE YOUR PET: If you are in need of spay/neuter services for your cat or dog, please fill out this request form and a member of our scheduling team will contact you when an appointment is available.
Don't qualify with the criteria above? Email our team at snclinic@arlgp.org to learn more about our Spay It Forward Program.
Spay/Neuter Clinic Fees:
Cat spay/neuter: $95
Dog spay/neuter (under 50 lbs.): $240
Dog spay/neuter (51-89 lbs.): $270
Dog spay/neuter (90-124 lbs.): $300
Additional add-on vaccines/treatments at time of spay/neuter surgery:
Rabies vaccine: $20
Distemper vaccine: $25
Bordetella vaccine (kennel cough- dog only): $25
Ear cleaning: $5
Dewormer: $15
Nail trim: $5
Microchip: $40
Frontline: $10
Please note: we are unable to spay/neuter Brachycephalic breeds (i.e. Pugs/French Bulldogs/English Bulldogs/Boston Terriers/Pekingese), Adult female Great Danes/Mastiffs/Weimaraners/Shepherds/Dobermans. We are also unable to spay/neuter cats over the age of 9, dogs over the age of 7, cats/dogs under the age of 8 weeks, or any cats/dogs that weighs under 2 pounds.
---
ARLGP VACCINE CLINICS
UPCOMING CLINIC: Friday, October 22nd
PLEASE NOTE: REGISTRATION FOR THIS CLINIC IS FULL. PLEASE CHECK BACK FOR OUR NEXT VACCINE CLINIC OFFERING.
The ARLGP will host a free vaccine clinic for cats and dogs on Friday, October 22nd, from 9am-noon. RSVP to attend is required– registration for this clinic now FULL. Please note we will not be able to accept walk-ins.
Our DOG vaccine offerings: rabies, distemper, bordetella (kennel cough)
Our CAT vaccine offerings: rabies, distemper
If you are interested in attending, please complete this form to provide your contact info and animal info. At the end of the form, you will be asked to select a 30-minute time frame to arrive in. While we will try our hardest to maintain a quick schedule, there could be a waiting period after arrival depending on how busy our clinic is. Pets will be seen on a first-come/first-serve basis within each time frame.
This clinic will be a curbside service. An ARLGP team member will check-in with you upon arrival. When your pet is ready to be seen, a veterinary technician will retrieve your pet from your car, bring them into our clinic for their services, and return them to you. Due to COVID-19, pet parents will not be able to accompany their pets into our facility.
Be sure to come with a leash for your dog and/or a carrier for your cat. If you have concerns about your animal, please let us know so we can best prepare. If your dog requires a muzzle to visit the vet, please bring it to your vaccine appointment too.
This free vaccine clinic is generously sponsored by:

---
FINANCIAL ASSISTANCE PROGRAMS
If you are in need of financial assistance for urgent or emergency veterinary services, we have compiled a list of external foundations and programs.
---
LOCAL EMERGENCY VET HOSPITALS:
The ARLGP does not have a full-service public veterinary clinic. If your pet has a medical emergency, please contact your veterinarian or visit a local emergency veterinary practice:
Animal Emergency Clinic of Mid-Maine
37 Strawberry Avenue, Lewiston, Maine 04240
(207) 777-1110 | aec-midmaine.com
PetMedic Urgent Care
191 Marginal Way, Portland ME 04101
(207) 813-4777 | petmedicurgentcare.com/locations/portland-me/
Animal Emergency Clinic
739 Warren Avenue, Portland, Maine 04103
(207) 878-3121 | animalemergencyspecialtycare.com
Maine Veterinary Referral Center
1500 Technology Way Enterprise Park, Scarborough, Maine 04074
(207) 885-1290 | mvmc.vet
---
MICROCHIPPING
Microchipping is our #1 way to reunite lost pets with their owners. Microchipping is a quick and easy way to ensure your animal is properly identified in the event that he/she gets lost. The cost is $40 per pet and comes with a one-year registration. Please give us a call at (207) 854-9771 to set up an appointment to microchip your pet.
---
- back to top -