IDEXX Safety Net
THE IDEXX SAFETY NET, A NATIONAL COLLABORATION
At the Animal Refuge League of Greater Portland, we are redefining what it means to save lives. Our life-saving efforts welcome cats, dogs and small animals to our organization from 30 partner shelters and rescue groups across the country.
Our safety net spans thousands of miles across our great state of Maine. Always our first priority, Maine shelters and rescues are working together to help local pets find the loving families they deserve. Nationally, thousands of pets from organizations across the country arrive by plane, bus, and van every week. From the deep south to California, Oklahoma to Puerto Rico. We welcome them with open arms and the promise of homes in our community.
And now, thanks to our corporate partner, IDEXX, our safety net program will provide thousands of pets the opportunity of a new beginning in Maine well into the future.
We're so proud to work with our transport partners and IDEXX to make a difference for so many pets in need. Together, we are saving lives.
 Are you a shelter or rescue interested in working with us? Please fill out our Transport Partner Questionnaire here. Our team will review your request, but unfortunately, we receive more requests for partnerships than we can accommodate at this time.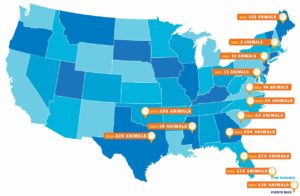 ---
- back to top -