At the ARLGP, we know that healthy pets in our community are happy pets in our community. Like humans, animal health encompasses both physical and mental wellness. Through our training and behavior department, we offer a variety of programs, guidance, and support to community members (both two and four-legged). We recognize the growing need in our community and are doing our part in helping make behavior and training services accessible to all. Take a look at our available training classes here.
We have amazing trainers who work hard to build a bond between you and your pets. Take a look at our trainer's bios below:
Kathleen Haggerty

Kathleen Haggerty (KPA CTP, CPDT-KA) teaches the Puppy 101 and Puppy 201 classes at the ARLGP on Sunday mornings.
She completed her Dog Trainer Professional certification through Karen Pryor Academy in 2010 and has a BA in Psychology and an MA in Counseling.
Kathleen began volunteering with the ARLGP Behavior and Training department in 2019 and received the 2020 Well-Behaved Award, which recognizes a volunteer who has had a great impact within the ARLGP Behavior and Training Program.
She completed the Puppy Start Right for Instructors program in 2019, the Family Paws Parent Educator program in 2020, and the Shelter Playgroup Alliance Educational Program in 2022.  She is currently working toward her CPDT-KA credential.
Kathleen especially enjoys helping her class members navigate the exciting and challenging time of having a new puppy in the family.
Amber Zawrotny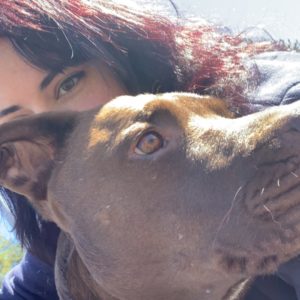 Amber Zawrotny (CPDT-KA & CGC Evaluator) is our Behavior & Training Manager.
With a decade of animal welfare experience ranging from bottle-feeding kittens to behavior modification across species as small as rats and as large as horses, she finally decided to specialize in educating pet owners on how to form the best possible relationship with their pets.
Amber has been at ARLGP since January 2023. Prior to her time here she contributed to animal shelters in New Hampshire, Washington State, and Connecticut. Her experience across the country has given her ample perspective on the human-animal bond and specifically in shelter dogs' needs.
Kim Tran
Kim attended college in Western Mass and graduated in 2010 with a BA in Business Administration, but then soon realized her calling was instead working with dogs.
After entering the canine world in 2012 and later bringing home her first dog, she realized how much fun it was to take training classes with her dog, Moose Pug, teaching him basic obedience, tricks, as well as passing his CGC test. Kim became interested in dog training both as a career, and to better understand dog behavior and how it could help her in her day-to-day job. She began to put in her time at a Dog facility in Boston where she was able to move up to a training assistant, and then to eventually apprentice to become a professional dog trainer.
For a brief time before the pandemic, Kim and Moose became a certified therapy dog team until his passing, an achievement she looks back on fondly.  Often reflecting on her time training Moose, she enjoys helping people understand how to better communicate with their dogs, helping to form bonds and lasting relationships, and most importantly showing them how to have fun!!