2/22/21 UPDATE: We are happy to report Jill and Mindy have been adopted and are doing very well with their new family. Brier still requires some medical support, but is enjoying his time in a foster home. He should be ready for adoption early-March. We are grateful to everyone who shared their story and helped us find them a loving home.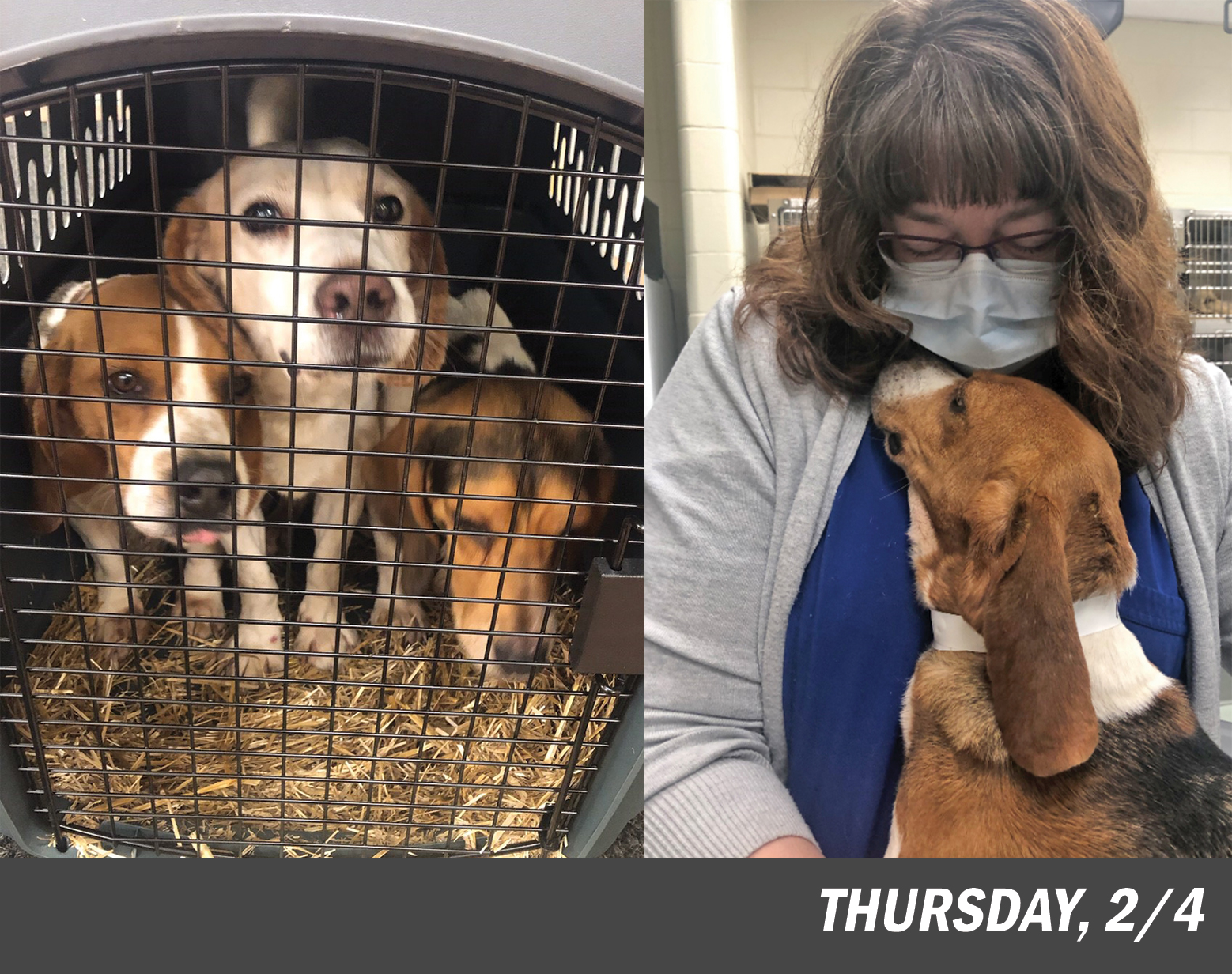 Around 6am on Thursday, February 4th, one of our morning cleaning associates noticed a crate at our front door. She went outside to investigate and found 3 beagles in the crate, on top of a bed of hay. She immediately brought them inside and called an ARLGP staff member. Because of the cold temperatures that night, we alerted our veterinary team who arrived quickly to assess the dogs.
Our vet team found that they had some significant medical needs to treat including tapeworms, ear and skin infections, urinary tract infection, gingivitis, and tickborne diseases. One was extremely dehydrated and required warm fluids. All needed to be spayed and neutered.
After reviewing our security cameras, we know that the crate was left at our front entrance at 3:30am. Each was wearing a paper collar with their names: Mindy, Jill and Brier.
While we are very thankful that the owner/transporter/person chose to leave them at our facility where they would be found and cared for, knowing more about their medical history and temperament would have helped us immensely. Without any knowledge of where they came from, how old they are, what medical conditions they have, if they have lived with cats/kids, etc. – we are left to start from scratch in determining what is in their best interest.
For the past two weeks, our team has showered these dogs with love and affection. Medically cleared, Jill (estimated to be 2) and Mindy (estimated to be 4) will be ready for adoption this Saturday, February 20th. They are incredibly bonded, and we are committed to placing them in a new home together. They are very typical beagles: curious, nose-driven and a bit chatty. They are snuggly and enjoy the company of people. We think they would do best with a family that can provide them with the time and space to stretch their legs and work those hound noses. We do not know if they have ever lived with other types of animals or children, but our adoption counselors are happy to tell interested families what we have observed while in our care. (You can read about our adoption process and how to sign up online Saturday on our website here.)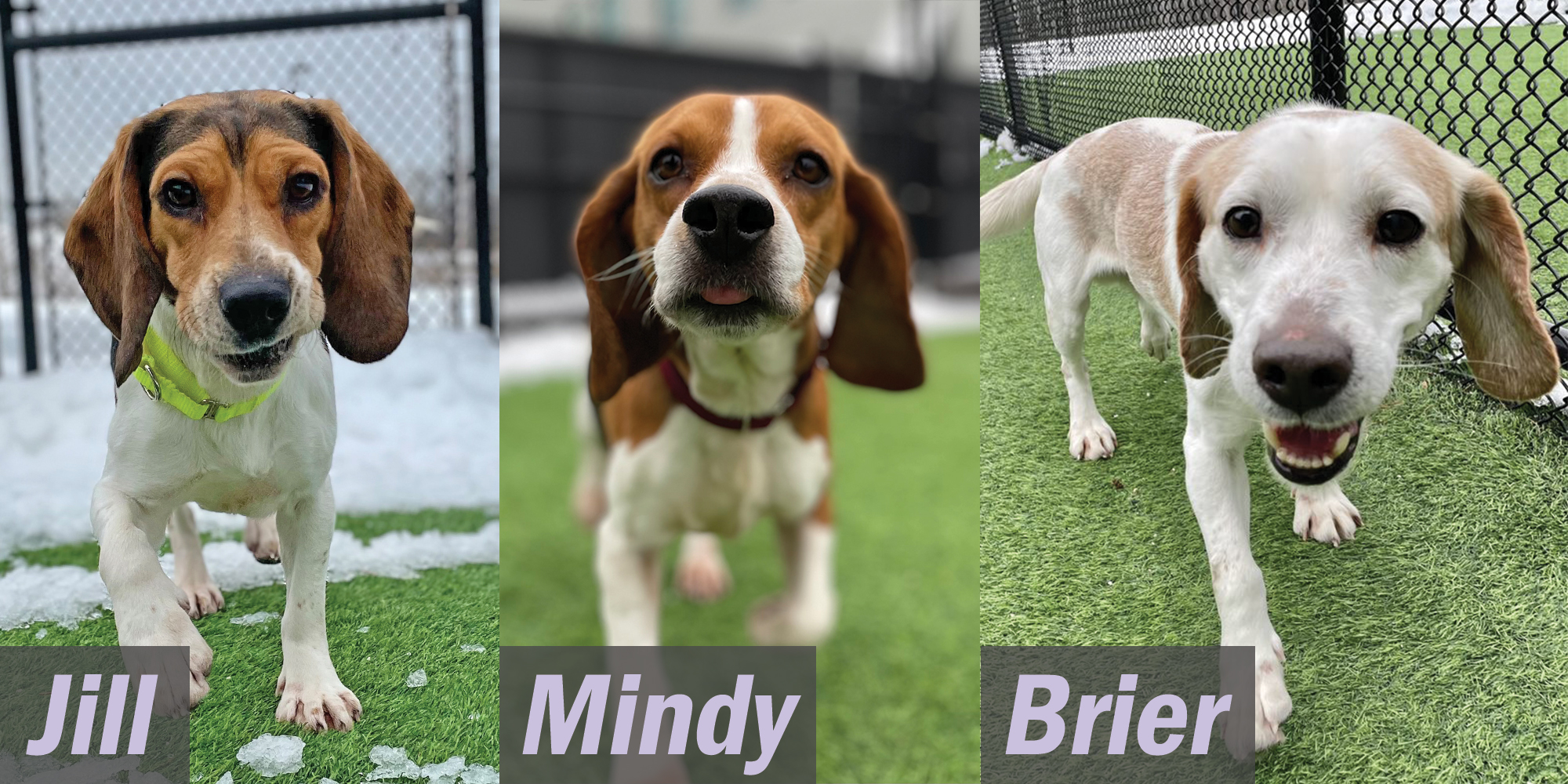 Brier is an older gentleman; we believe he is about 8. He still needs to be neutered and receive some dental work. We think he will be ready to venture off to a new home in March. We will keep everyone posted once he is ready to be adopted.
If you are in need of support for your animal(s), please contact us or your local shelter. Surrendering an animal to the ARLGP is a judgment-free process. We are here as a resource and safety net to support community members. Part of our admissions process includes learning as much as we can about the animal, so that we can provide it with the personalized care it needs and the most appropriate adopter. Do not hesitate to reach out with any questions, concerns or needs.
We also offer many services to help pets in our community including our pet food pantry, low-cost spay/neuter, and behavior and training support.