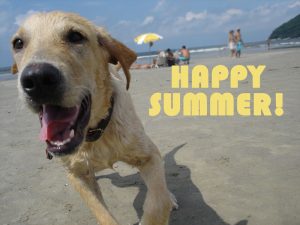 Did you know more animals are found stray on the Fourth of July than any other time of year? Simply put, our holiday celebrations often cause fear and anxiety for our four-legged friends. Fireworks in particular can be a loud and scary thing for our animal companions. As we gear up for our weekend celebrations, remember a few very important rules to keep your pet happy, healthy and home:
The best place for your pet on the Fourth of July is home. Ensuring that your pet has a quiet, comfortable and calming place to retreat to if they are feeling overwhelmed or frightened is extremely important.
If you must have your dog with you during your Independence Day celebrations, make sure they are always leashed and with an adult. Shelters across the nation see an increase in stray dogs at the beginning of July due to dogs bolting in fear of fireworks. Remember: the best place for your pet is at home, with no opportunity to run away!
Make sure your pet has a collar with identification tags. In the event that your pet does run away, identification tags aid in a speedy return home when they are found. If your pet does get away, immediately call your local Animal Control Officer and your local shelter. You can find all Maine ACO's and shelters by town, here.
Go beyond identification tags: microchip your pet! Microchips are the #1 way for shelters to reunite stray pets with their owners. It's an important component of pet identification, and significantly increases the chances of reuniting with your pet if he/she is brought in as lost or stray. Feel free to give the ARLGP a call to set up a time to microchip your pet at (207) 854-9771.
If your pet is joining you at family gatherings, make sure they have a cool spot with fresh water to beat the heat! Summertime in Maine can reach uncomfortable temperatures. Making sure fresh, cold water is available at all times is extremely important, as well as healthy (dog-friendly) food. Having access to an indoor area is also necessary, so your pup can relax and keep cool.
Never leave a dog in a car during the summer months, as temperatures inside the vehicle climb to unbearable and deadly levels (often 20 degrees hotter than the outside temperature). Check out this interesting experiment when a veterinarian locked himself in a hot car to demonstrate how our pups would feel. A quick run into the grocery store can be incredibly dangerous for your pup. It's best to leave them home!
If you remember nothing else this Fourth of July, remember this: the best place for your four-legged friends is in the comfort of their own home!