On Friday we had a fun idea for our sweet, 15-year old kitty, Dougie. Dougie loves nothing more than to be held, all the time. So, we thought, why not put him in a baby carrier? Our feline team member Robert brought a baby bjorn in from home, and the rest is internet history…
Our mid-morning photo post on facebook immediately took off! Likes, shares, comments all poured in with nothing but adoration for Dougie and the adorable image of him happily perched on Robert's chest. As of Monday morning, more than 117,000 people have seen that single facebook post from our page. With stories also published nationally on HuffPost, ABC News and Love Meow, and locally from our friends at WCSH6 and WGME13, Dougie (and Robert) became viral superstars.
Best of all, Dougie's stardom resulted in a new, loving home for him. We're thrilled Dougie's story has touched so many, and we're equally excited about the spotlight it shines on the variety of pets in need of homes at the ARLGP.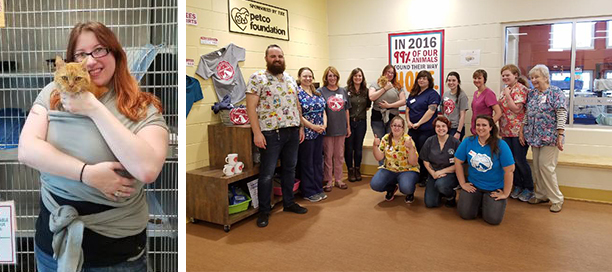 Thank you to everyone who helped share Dougie's story. A senior, special needs kitty is now HOME because of YOU!