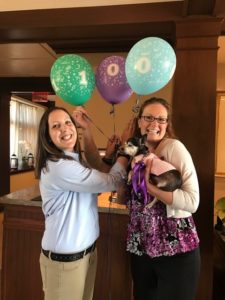 Yesterday we sent our 100th adoptable dog to our off-site adoption partner, Inn by the Sea!
Over the past 2 ½ years, 99 dogs have found new, happy homes during their stay at the seaside resort in Cape Elizabeth. Each dog has been uniquely different, ranging from 5 pounds to 80 pounds, ages 7 months to over 12 years. However, no matter the size, age or breed—the Inn has loved each and every pup equally. No matter the season or time of day, each dog is walked, fed, snuggled and cared for around the clock by a dedicated and compassionate team.
Our first dog made the trip to the Inn in May of 2015. Mambo, a 3-year-old bernese mountain dog, lasted no longer than 24 hours at the Inn before being adopted by a local family. Since Mambo, Inn dogs have found new homes all over our state, New England and beyond! Today, a 5-pound Chihuahua named Twinkie is currently calling the Inn home until her new, permanent home is found.
As we look back on many of our Inn by the Sea dogs, we are reminded of how lucky we are to be in this amazingly supportive community. Please join us in thanking the Inn by the Sea for being a friend to animals in need, and for saving lives with us.
Check out some of our former Inn dogs below, and the next time you're headed their way—stop in! You'll never know what four-legged ARLGP pup will greet you from their front desk with a tail wag, bark or high five.