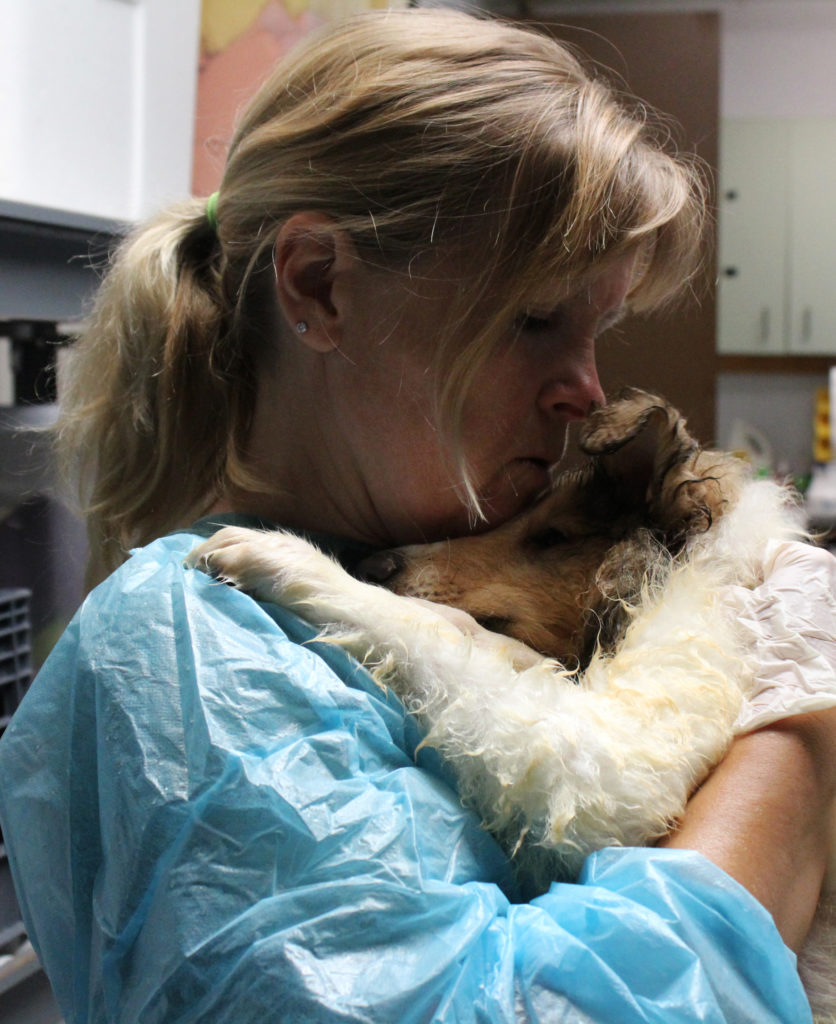 Tuesday, July 23rd, is a day our team will never forget. Our staff, volunteers and vehicles joined the State of Maine Animal Welfare Division in the seizure of more than 100 dogs, cats, horses and chickens from a home in Solon, Maine.
In total, 55 dogs and 1 cat from the Solon home were cared for by our team over the summer months. To say their needs were substantial is an understatement. One dog needed an advanced orthopedic procedure, another underwent open-heart surgery. We delivered two litters of puppies via emergency c-sections in our veterinary clinic, with staff and volunteers working all hours of the night triaging the urgent situation. The majority of the dogs required treatments for conjunctivitis, some even suffered vision loss and impairment due to the conditions they were kept in. We saw adult dogs run in an open space for the very first time in their lives, unsure of how to use all four paws in motion at a fast pace. Our behavior team worked diligently showing the older dogs what it's like to be a companion: to be petted, to walk on a leash, to be groomed. We saw them learn what squeaky toys and tennis balls were: all things they had never experienced before.
It was a trying two months, filled with heartache, emotion, determination, and celebration. Our staff and volunteers came in every day ready to help these dogs overcome hurdles and to show them what their new life would be like, cared for and loved. Our foster families opened up their homes to provide TLC and to show them what it was like to lay on a couch, snuggle in bed, have food and water available– how to be a companion. And as each Solon animal made their journey to adoption day, the response from our community was immense. You lined up at our doors to adopt, you dropped off food and puppy pads, you sent beautiful notes and words of encouragement. It kept us going.
Today, our team celebrates the next chapter that has begun for our Solon animals. Each is waking up on this Christmas morning loved by a family who promised to give them everything they deserve. A promise of a new beginning. And for that, we are eternally grateful.