In 2017 the ARLGP went viral…
Dougie the 17-year-old orange tiger arrived at the ARLGP in the summer. As a special needs, senior cat, Dougie stayed under our veterinary team's care for weeks before becoming available for adoption. Finally, once he hit the adoption floor, we were so excited to find him a new beginning.
The best thing about Dougie, you see, was his ability to meow at the top of his lungs when not being held. While in our care in our cat isolation area, he received LOTS of one-on-one attention, which kept him incredibly happy and generally quieter. But, once on the adoption floor, he'd yell far and wide for a visitor, volunteer or staff to pay him attention. We always did, of course, but processing adoptions, cleaning kennels, and chatting with visitors sometimes prevented us from giving Dougie the attention he demanded, when he demanded it.
So, we came up with a creative and unique solution: Robert, one of our full-time feline team members, would carry Dougie in a baby bjorn during our adoption hours. This, we thought, would provide Dougie with the constant affection he wanted, and give Robert his hands free to work with other cats and our visitors. Plus, it was adorable! Of course we snapped a pic and put it on social media for all to see the cuteness overload.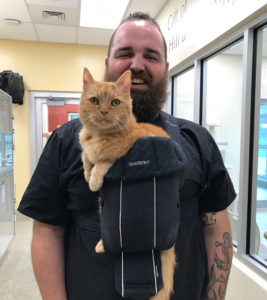 What we didn't anticipate was the instant response. Dougie (and Robert) went viral! Our mid-morning photo post on facebook immediately took off. Likes, shares, comments all poured in with nothing but adoration for Dougie and the adorable image of him happily perched on Robert's chest. In just one day, more than 117,000 people saw that single facebook post from our page. Then, Huffington Post and ABC News reached out to publish stories nationally, with our friends at WCSH6 and WGME13 joining in locally—all together, Dougie and Robert became viral superstars.
Best of all, Dougie's stardom resulted in a new, loving home for him. We're thrilled Dougie's story has touched so many, and we're equally excited about the spotlight it shines on the variety of pets in need of homes at the ARLGP.
Dougie's new mom is thrilled with her new companion:
"Dougie has changed my home life immensely – he is SUCH a lovebug, even to my other cat Jax, who is 3. If Dougie isn't snuggling with me, he is snuggling or playing with Jax. I think Dougie has a bit of arthritis, but it has barely slowed him down! Dougie is doing great at home, he's spoiled and he knows it. He is very, very loved!
Having Dougie at home this year for Christmas is wonderful- he and Jax will get special treats on Christmas and lots of snuggles – I'm certain that Dougies "voice" will be the first I hear on Christmas – he's just as vocal as ever!
I hope everyone continues to be open to adopt the older kitties and dogs as well. They really need us and have just as much love to give as their younger counterparts. It makes me happy knowing Dougie will have a happy, comfortable and loved rest of his days!"