Wow, today marks 1 year in our new, happy home. And, what a year it has been!
Since our big move-in, we've placed 3,340 pets with new families to call their own. We've worked with more than 6,000 children in our new humane education classroom, to learn about animal welfare and compassion and kindness. And, we've proudly given tours and explored our new shelter with more than 38,000 visitors.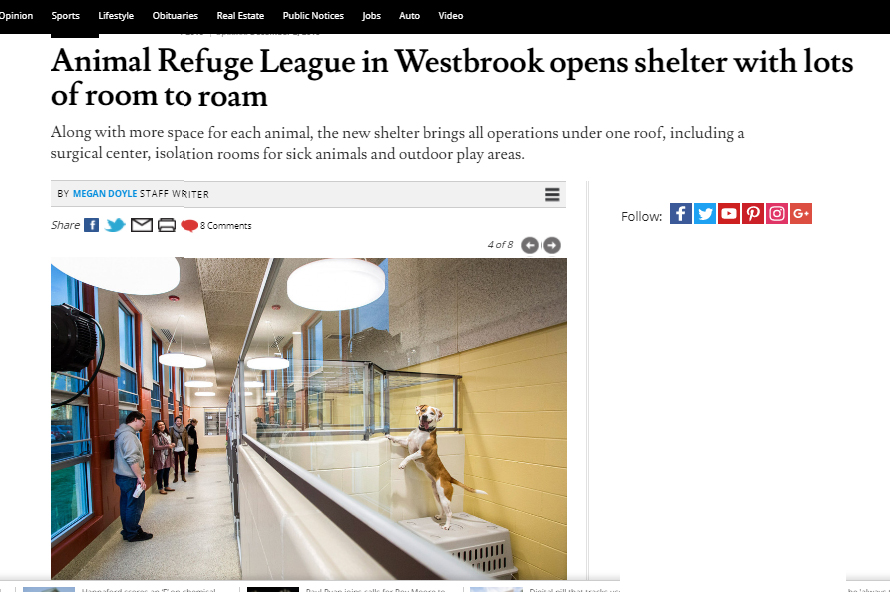 Back on December 2nd, 2016, we welcomed the Portland Press Herald to our new facility to take photos and explore. Read the full article here.
We've always loved this PPH photo of ARLGP alumni, Souki, using a crate as some leverage to take a peek at her neighbor in our new space. We heard from Souki's adopters just last week, and they happily report this smiling gal is doing very well post-adoption.
If you haven't made a visit to our new facility yet, come on by! Our annual Holiday Open House event held on Saturday, December 2nd, from 10am-2pm is the best place to kick-off the holiday season (with tails wagging, of course).